Abu Dhabi tour packages from Dubai UAE
Abu Dhabi Sightseeing city tour from Dubai | Best Full Day / Half Day Abu Dhabi Trip deals, cost / price | Special Offers Abu Dhabi tour itinerary
Explore city's best attractions in the capital of UAE Abu-Dhabi with local expert guides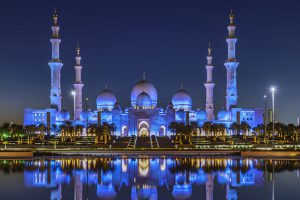 Abu Dhabi is the capital of United Arab Emirates UAE and the most populous city in the among the seven states of United Arab Emirates next to Dubai and Abu-Dhabi is one of the most expensive big cities in the world. More and more tourists visit Abu Dhabi because this is one of the modern cities with high buildings and its state-of-the-art museum (louver Abu-Dhabi) super malls and amazing mosques (Sheikh Zayed Mosque). Want to make your kids happy then visiting Ferrari word and have some good time with your family.
With our Abu-Dhabi City Tour Packages from Dubai takes you some of the best attractions the beautiful city has to offer, so you can enjoy this unforgettable trip with your children, family, colleagues or friends. In this tour itinerary our experience English speaking tour guide will be picking you up on an air-conditioned vehicle form airport, hotel or from your residences and return you to your location. Feel free to talk to our company's friendly tour guide and he can answer to all your questions.
Abu Dhabi City Tour Itinerary
We can pick you up from your location (Airport, port, hotels or residence)
Drive via Sheikh Zayed Road to Abu Dhabi
Beautiful and famous Sheikh Zayed Mosque (please note: This is a Masjid a place where Muslims worship, therefore modesty is a must when visiting Sheikh Zayed Grand Mosque. That means no short-clothes, transparent or tight clothing, both men and women must wear loose fitting clothes, up to ankle-length trousers or skirts, and have their arms covered. ( 40 – 60 Minutes Stop )
Carpet Market
Dates Market
Saadiyat Island
Drop off at your location (Airport, port, hotels or residence)
Abu Dhabi trip deals / cost / price and time from Dubai
For price / cost please send us an email or for a quick reply simply send us a WhatsApp message, so we can send you the details with total cost for this Tour itinerary according to your need.
Duration: 8 Hours full day or half day-tour
Our-Tour-Service: Daily morning departure
Pick-up: 09:00 :-To-: 09:15 AM
Drop off : 05:15 :-To-: 05:30 PM
Pick From: Airport, sea port, hotel or residences in Dubai
Refreshment: Cold Drinks, Soft Juice, Water
Operator: Al Safa tours
Custom Abu-Dhabi trips can be arranged too, according to your need, please let us know in your booking where you want to spend more time during your trip.
How to book Abu Dhabi tour from Dubai
Booking Abu-Dhabi trip is easy, just send us a email using our contact form with all your details (which date and month, how many people, children / kids, adults or family etc.. etc..). and please mention you need full day tour or half day tour. So we can arrange you the tour.
Contact us
Other Abu-Dhabi Tour-Packages from Dubai