Dubai Sightseeing Tour (Day & Night)
Dubai City Tour /  Sightseeing tour in Dubai city / Private City tour / VIP Tour / Luxury Coach City Tour / Open Top bus Tour Dubai city / Big bus Tour

Discover the best of Dubai sightseeing tour with an expert guide. Traveling by comfortable coach or minivan, take in Dubai's top landmarks as you absorb the cosmopolitan atmosphere. Snap photos of the Burj Al-Arab, the sail-shaped hotel on its own artificial island; venture into the traditional Al Bastakiya district, ride an 'abra' water taxi across Dubai Creek, and much more. Sign off with a visit to the Deira Spice Souk and free time to explore the brilliant Gold Souk. Dubai sightseeing at its easiest and best!
Option 1:
Ride on a Luxury Coach (Small bus)
Trip Timings:
With Pick up and Drop Off in any place in Dubai (Hotel, Mall or a Landmark near your residence)
9:00AM to 9:30AM and drop back at 1:30PM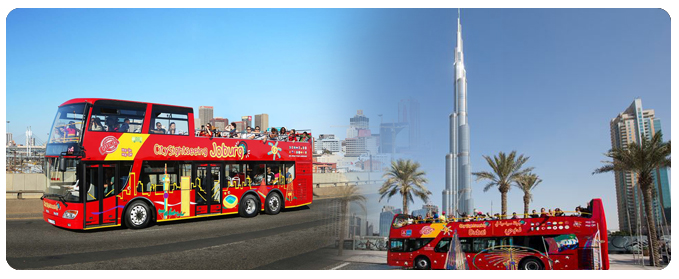 Option 2:
Ride on a Open Top Double Decker Bus
An absolutely exciting view of Dubai is waiting for you to experience: The big bus tour. This "Hop-on Hop-off" sightseeing adventure lets you enjoy an onboard ride via traditional open top double-decker bus.
With more than 20 stops available and 2 different routes you can choose from, the Big Bus Tour will show you city's landmarks and its impressive development over the years.
You may hop-on and hop-off at any of the stops, which are listed on the itinerary, for each attraction that interests you. What's cool about the tour is that a commentary guide is available in a language of your choice.
This is an absolutely exciting and informative adventure you won't regret.
Pick-up Points:
Al Ghurair Mall, Deira
Burjuman Mall, Bur Dubai
Trip Timings: 10:00AM to 2:00PM & 4:00PM to 8:00PM
Places to Visit:
Museum (Entrance Ticket/ 30mins.)
Old Souk
Jumeirah Mosque
Jumeirah Beach Park (25 mins.)
Public Beach
Jumeirah Beach Hotel
Souk MadinatJumeirah
Burj Al Arab (Wild Wadi Water Park)
The Palm Islands
Dubai is a city of firsts – from the tallest building to the biggest man-made island; the first seven-star hotel to a ski resort in the desert. The list is endless. On our tours we aim to point out these jaw-droppingly awesome accomplishments while you experience a scenic glimpse of Dubai's diversity from the incredible skyscraper landscape to the magical paradise along the coast. Our tours offer several stops along the way. If you are an adventurous person who loves experiencing a unique culture, diverse dining, enjoy shopping and like to unwind yourself, then Emirates will be just the place for your next holiday.
With City Sightseeing Dubai's hop-on hop-of tours you can discover the city at your own pace in a convenient flexible manner, with an informative tour, giving you the best perspective of Dubai.
We offer great value for money while taking you on a remarkable adventure!
For more info or Bookings
Contact us