Half day short Abu Dhabi trip from Dubai
Half day Abu Dhabi tour from Dubai | Abu Dhabi Short City tour | Sheikh Zayed Mosque visit from Dubai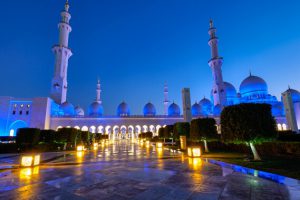 Want to visit Emirate's capital Abu Dhabi for few hours and take you family or friends and show them some iconic places like Sheikh Zayed Grand Mosque or let your kids have some fun at enjoy a city trip during your short holiday or a few days visit in Dubai.
Your half-day morning or afternoon tour to Abu Dhabi starts from Dubai and you will be picked up by one of our company's English speaking professional tour guide, form Airport, cruise ship dock yard, hotel or at residence. Drive to Abu-Dhabi will talk around 90 min, in a comfortable modern air-conditioned vehicle.
Sheikh Zayed Grand Mosque tour form Dubai
Completed in 2007, Sheikh Zayed Grand mosque is one of the biggest the United Arab Emirate's located in Abu-Dhabi. Famous for its masterwork of domes, marble and colonnades. Enjoy this half-day 5 hour guided UAE's largest Mosque morning or evening tour of its highlights including the prayer hall, and learn more about its design, history and traditional themes and enjoy this very special sightseeing trip that takes tourists to the most celebrated attraction of Abu Dhabi.
Please pay attention to the dress code during the visit to Sheikh Zayed Grand Mosque, because this a Masjid (place of worship). And no short, tight or transparent clothes allowed for both men and women.
Itinerary:
Morning tour Departure times / schedules
8:00 am – 8:45 am hotel pick up (except on Fridays (special prayers day))
Visit Sheikh Zayed Grand Mosque
2:00 pm – 2:30 pm drop off at hotel
Afternoon / Evening Departure times / schedules
3:30 pm – 4:00 pm hotel pick up (on Sundays, Thursdays, and Fridays only)
Sheikh Zayed Grand Mosque Visit
9:00 pm – 9:30 pm drop off at hotel
Pick up and drop off points:
Airport, cruiser ship dock yard or residence
(short delays may be expected due to heavy traffic during the morning and  evening rush hours)
Explore Abu Dhabi city with our half day city sightseeing tour
See Abu Dhabi's top attractions and learn about the past and future of the in the modern United Arab Emirate's capital and one of the most visited cities next to Dubai. Experience the traditional aspects of the way of life in the desert at Abu-Dhabi Heritage Village during this trip. Shop at the souk and Stroll around the Bedouin tents. Admire the tall skyscrapers, corniche gardens and Abu Dhabi's beaches in an air-conditioned coach with a Professional English Speaking tour guide in this 5-hour sightseeing trip of Abu Dhabi with an expert guide from Dubai
Abu Dhabi short trip / half day tour deals, cost / price  or discounts from Dubai
For a quick answer regarding tour cost / price, deals or discounts you can send us a WhatsApp message.
Contact us
Other interesting Abu-Dhabi Tour-Packages for Kids, Family or friends from Dubai