Liwa desert safari trip from Dubai
Liwa Desert tour from Dubai | Full day Liwa Oasis trip | Liwa safari offers from Dubai | Empty Quarter Abu Dhabi Desert trip from Dubai
Liwa off road desert Adventure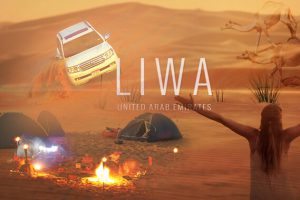 Explore Liwa's colossal dunes and sands on a  full day  Liwa desert safari tour from Dubai. This Liwa adventure safari 4×4 off-road experience driving across smooth golden sand dunes as well as rough and tough off-road tracks in mountain areas with our professional off road expert desert driver and English speaking tour guide (driving in the desert need special skills). So  this drive can be a bit rough in few rugged areas.  Not a suitable bumpy desert tour for any pregnant women, and tourists with heart ailments or heart problems and back or neck problems.
Liwa-tour is uncomplete with the famous trilling rollercoaster ride dune bashing on the high dunes in the desert. In the evening capture some stunning photos of the sunset behind the golden desert dunes which will really leave a deep & beautiful unforgettable moment in your mind with. During the this adventure tour you also can visit some interesting places like Qasar Al Sarab, Car Museum and the other landmark sites. If you like you can have some fun in the smooth sand sandboarding with you family and friends. This tour is more for adventure lovers and this is not just a sand desert sightseeing visit. This Liwa tour is more fun and trill. During the drive to Liwa Oasis explore this epic wilderness and check out for wildlife such as Arabian gazelle, rabbits and lizards
Empty Quarter Desert Tour form Dubai
The world's largest uninterrupted vast desert-sand mass, the Rub Al Khali also known as Empty Quarter will blow you away with massive expanses of awesome enormous high golden desert sand dunes. With More than 300 meters high is the Tel Moreeb and 50 degree incline, this sand dunes consider as the worlds tallest sand dune, and became a magnet destination for motorsport enthusiasts. During Liwa International Festival, Quad riders, powerful 4×4 off road jeeps and buggy drives enjoy their ride in the Moreeb Hill Climb event.
If you like to experience the Liwa-desert in 3d view try google street view. It's available now. Click here to the google street view. 
Minimum 04 x Adults Required for this safari tour from Dubai
All our off road 4×4 adventure safari tour jeeps are fully air-conditioned with the capacity of 6 guests. All the travelers must wear their seat belts all the time during trip. It will take around 4 hours' time to reach incredible Oasis of Liwa from Abu Dhbai.
Liwa Safari-tour options:
There are two options you can choose from, morning Liwa-Safar or overnight camping stay in Liwa-trip. For more information please send us an email.
Pick up points, time & tour duration
Our company's expert English speaking tour-guide can pick you up from your location (Airport, Cruiser Ship dock yard, hotels or residence)
Liwa Abu Dhabi trip tour deals, cost / price  or discounts from Dubai
Booking your Liwa-Abu-Dhabi trip from Dubai is very easy, no pre-payment or credit card required, all you need to do is send us a detailed email using our contact (which date, time and month, how many people, children / kids, adults or family etc.. etc..).
Contact us
Check out our family tour packages from Dubai
Other Liwa_tours from Abu_Dhabi