Abu Dhabi city tour from Dubai
Abu Dhabi tour from Dubai | Abu Dhabi Family trip | Abu Dhabi tour deals, cost / price and discounts from Dubai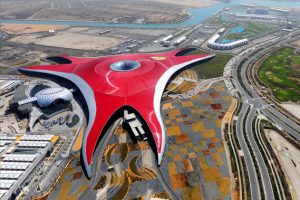 Discover the major highlights in the capital of United Arab Emirates Abu Dhabi on this guided day tour from Dubai. Around 90 miles (140 Km, 1 hour 20 mins) away from Dubai, Abu Dhabi is the perfect getaway and suitable for day trips from Dubai with your family, friends or colleagues. At Ferrari World, go-kart race with your family or friends or go for an amazing ride with the world top class rollercoaster or challenge the best lap times and show your driving skills in a state-of-the-art racing simulator have fun with your loved ones.
Abu Dhabi is home to some of the most iconic attractions such as Ferrari World, state-of-the-art  super modern museum (Louver Abu Dhabi)  in the Middle East, and its amazing landmarks such as the beautiful Sheikh Zayed Grand Mosque and Emirates Palace, the super modern formula 1 racing circuit at Yas Marina.
Abu Dhabi Sightseeing trip from Dubai
This city sightseeing tour itinerary includes the very Abu-Dhabi's famous Sheikh Zayed Grand Mosque, which is one of the beautiful amazing two masjids in the United Arab Emirates which can be visited by anyone also open to non-Muslims. Next to world famous 7 star Burj Al Arab hotel The Emirates Palace a luxury hotel is the second seven-star hotel in the world. One of the biggest mall Abu Dhabi is Marina Mall, and this is located close to the Emirates Palace hotel along the breakwater on Corniche road. Experience the way of traditional Bedouin life in the deserts at The Heritage Village Abu-Dhabi, United Arab Emirates before oil was discovered. During this trip there will be a  stop at the Carpet Souk, where tourist can shop for souvenirs to take home and click some photos.
Want to spend some good time with your family and  Interested in this Abu Dhabi City Tour from Dubai?
Want to enjoy a unforgettable day in UAE's capital Abu Dhabi with your family and kids, just give us a call for booking or you may book online through booking contact form our support company staff will confirm the booking via email with pick time and details and more detailed information, regarding tour itinerary.
Guided Abu Dhabi City Tour from Dubai
Our company's tour guide can pick you up from your location (Airport, Ship dock yard, hotels or residence)
This Abu-Dhabi tour will via Sheikh Zayed Road from Dubai
Beautiful and famous Sheikh Zayed Mosque (Important note: Sheikh Zayed Mosque is a place of worship, therefore modesty is a must when tourists visiting Sheikh Zayed Grand Mosque. That means no short clothes, transparent, or tight clothing allowed. ( 40 – 60 Minutes Stop)
Popular Abu-Dhabi Market
National Exhibition Centre
Emirates Palace Hotel
Jumeirah Etihad Tower
Photo stop at Sheikh's Palace
Heritage Village
Islamic Art Museum
Marina Mall of Abu-Dhabi
Abu-Dhabi Corniche
Carpet Market
Dates Market
Yas Island
Saadiyat Island
Drive through Al Dar Building
Ferrari World Park
Louver Abu-Dhabi (Museum)
Drop off at your location (Airport, port, hotels or residence)
Pick up points, time & tour duration
Duration: 8 Hours full day or half day-tour
Our-Tour-Service: Daily morning departure
Pick-up: 09:00   To   09:15 AM
Drop off: 05:15  To  05:30 PM
Pick From: Airport, sea port, hotel or residences in Dubai
Refreshment: Cold Drinks, Soft Juice, Water
Operator: Al Safa tours
Custom Abu-Dhabi trips can be arranged too, according to your need, please let us know in your booking where you want to spend more time during your trip.
Abu Dhabi Tour deals, cost / price from Dubai
For a quick answer regarding tour cost / price, deals or discounts you can send us a WhatsApp message.
How to book Abu Dhabi tour from Dubai
Booking your Abu-Dhabi trip is very easy, no pre-payment or credit card required, all you need to do is send us a detailed email using our contact (which date, time and month, how many people, children / kids, adults or family etc.. etc..). and please mention you need full day or half day tour. According to your need with our company staff can arrange you the trip.
Contact us
Must-see attractions in the capital of UAE Abu Dhabi
Sheik Zayed Grand Mosque
Emirates Palace
UAE Heritage Village
The Corniche
Ferrari World
Other Abu-Dhabi Tour-Packages from Dubai