Dubai Shopping Tour – Dubai shopping tour package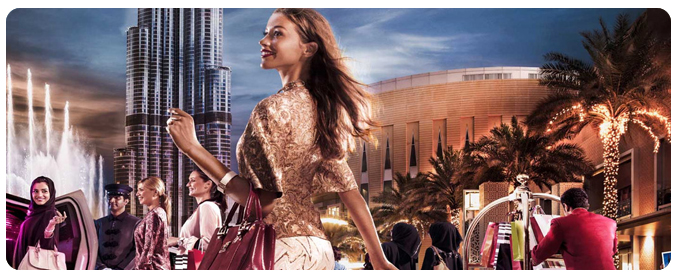 Dubai Shopping Tour Package
Experience the best shopping of your lifetime in UAE! With more than 20 shopping malls and countless shops and outlets, Dubai boasts a variety of products and prices that thrill shoppers of all ages. From window to bargain hunting to high-priced luxury purchases, you can find it all.
On your own, you might feel overwhelmed by the size of the city and the variety of shopping venues. With our tour guides to transport you from place to place and advise you on the best shopping spots, your shopping experience transforms from stressful to amazing.
Dubai called shopping paradise, City of Gold is haven for bargain hunters during Dubai Shopping Festival & Dubai Summer Surprises plus point the country is tax free status. This tour will take you to shopping malls like City Centre, Burjuman Lamcy Plaza, Wafi City and Al Ghurair Center where most items are branded names and are accessible under one roof. Bur Dubai the street of Electronics and textile where you can bargain. Karama a place for bargaining mainly garments, souvenirs traditional and handicraft items. Deira Al Nasr Square haven for Electronics and Carpets.  Last but not the least we proceed to Deira the "City of Gold" has one of the best gold souqs in the world at competitive prices.
Dubai specializes in fashion, jewelry, carpets, electronics, and handcrafted treasures, so our regular tour takes you on a guided adventure through some of the top malls, as well as a gold souk and a diamond park. You can customize your tour to your personal taste and interests to ensure that you get to see all the best merchandise in a wide range of prices. When you schedule your tour, simply express your preferences to the reservation executive, and we will create the perfect experience just for you.
Please note that prices are indicated for a minimum of 2 persons
Type: Half day tours
Meeting Point: Pick up at your hotel, residence, cruise terminal or airport
Duration: 4 hours without lunch
Days of Operation: Daily
Pickup Time: 9.00 – 9.30 AM (Saturday – Thursday)
Dropoff Time: 1.00 – 1.30 PM (Saturday – Thursday)
Pickup Time: 2.00 – 2.30 PM (Fridays)
Dropoff Time: 6.00 – 6.30 PM (Fridays)
A half day of tour in Dubai A professional guide, trained in city driving and first aid Full insurance, a tracking system, mandatory seat belts, and a safety kit for the tour vehicle
What to Bring:
Remember to bring your camera so that you can capture your favorite moments! Keep your belongings, such as your purse, wallet, and electronics close to you at all times. Wear loose, lightweight summer clothing, but bring along a sweater or a light jacket since the air conditioning indoors is often quite cold. During Ramadan, please dress conservatively out of respect for local customs.
Important Information:
Littering is a punishable offense. Please dispose of your trash properly in designated containers or keep it with you until the end of the tour or activity. Smoking is prohibited both in public areas and within your tour vehicle. Please avoid public displays of affection. Refrain from photographing Arab women and girls without consent. Do not take photos of any military installations or government buildings.
For more info or Bookings
Contact us