Camel Safari Tour Dubai – Camel Ride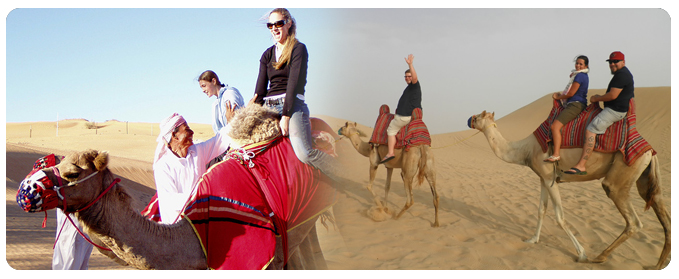 Camels are supposed to be old Rolls Royce of the desert. People in the early days used the camels either for trading or for transporting goods from one place to another. Camel safaris in Dubai are always done in groups, otherwise known as caravans. Camels endure the strong winds in the desert thus referred to as the 'ship of the desert'. Their ability and strength to go in far distances for a long time without food and water made these wonderful creatures so valuable and a part of the Arabic tradition. Ask for the assistance of our camel handler, a help will be necessary to get on the back of camel. Follow the instructions on how to have to mount the animal while he is in a sitting position, keep a straight posture , sit confidently and be relaxed. Camels are intelligent and can feel your attitude. You either take some pictures from the top of your camel or ask someone else on the floor to take you some photos while you will be in action during the ride.
Camel Safari Tour Package
Camel Safaris in Dubai are always done in groups and in private tour.
Time: 7 am – 6 pm
Duration: One Hour Camel Tour / Two Hour Camel Tour
Options: With / Without pick – up or Drop – off

Category

: Private Tour / Group Tour
For more info / Bookings
Contact us