Modern Dubai Tour
Modern Dubai City Tour Package / Private Dubai City Tour Package / Dubai tour guide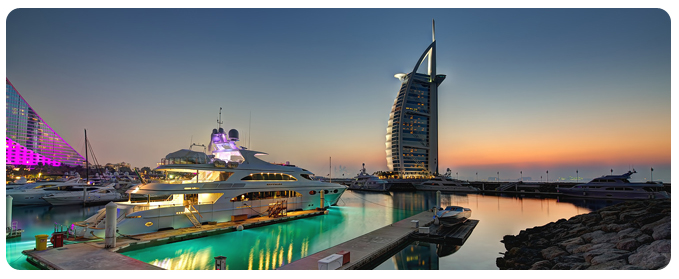 This is an orientation tour of Dubai. We begin with a photo-stop at Jumeirah Mosque
Discover the wise vision of His Highness Sheikh Mohammed AL Maktoum. We first visit the sales office of Palm Island where we could view the miniature of the new modern Dubai such as Palm Island, which is the Eight Wonder of the world. There after we proceed to The Villas, which is called street of dreams, where 400 villas built. Our next visit is to Madinat Jumeirah one of a kind hotel with traditional souq and a amazing look alike of mini Venice of the lake and abra's (traditional wooden boat) for the guest to travel each area of the hotel. After visiting all modern of Dubai, we end our tour to Gold Souq where you are amazed with dazzling design of gold from 24 – 18 carat. Please note that prices are indicated for a minimum of 2 persons.
Virtual Dubai – a city that only existed on high-tech computer screens, to its final realization and existence in the physical reality, with sky-scrapers growing like mushrooms. The city is world famous for its innovative construction technologies as well as modern technologies and daring projects. This modernity will be the underlying theme for this tour. We will stop by the 8th wonder of the world, the Dubai Palm Island and its gem – the Atlantis Hotel & the Burj Al Arab – one of the most iconic architectural structures of the 21st Century (photo stop only). On the way we will make a stop at Madinat Jumeirah – an ultra stylish shopping mall that is riddled with canals, coffee shops, restaurants & shops.
Our Tour Guides have been in UAE long enough to describe this transition first hand, as well as provide you with a large amount of well researched information that will place a lot of context & background info to the visual imagery that you will see during the tour.
The aim of this tour is to show the futuristic, boundary pushing nature of UAE & provide you with the necessary information to contextualize this evolution.After this you will not be able to confuse Dubai with any other city in the world.
Note: On Saturday Nakheel & Burj will be closed
Type: Half day
Meeting Point: Pick up at your hotel, residence, cruise terminal or airport
Duration: 4 hours without lunch
Days of Operation: Daily
Pickup Time: 9.00 – 9.30 AM (Saturday – Thursday)
Dropoff Time: 1.00 – 1.30 PM (Saturday – Thursday)
Pickup Time: 2.00 – 2.30 PM (Fridays)
Dropoff Time: 6.00 – 6.30 PM (Fridays)
For more info or Bookings
Contact us